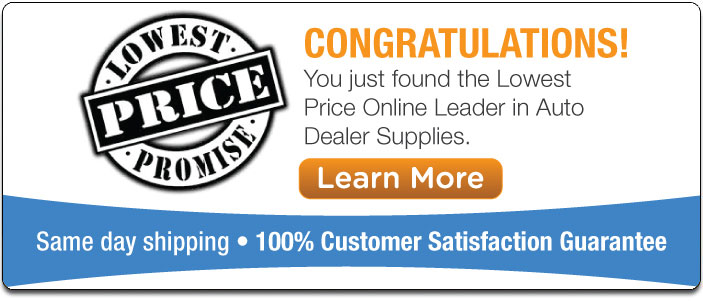 MyDealerSupply.com
Online Leader in Dealer Customization
Low Price Promise
Congratulations, you have found the low price leader for auto dealer supplies online. Our program is very simple. We focus 100% of our marketing efforts online and that strategy allows us to price our products substantially lower than our competitors. MyDealerSupply.com guarantees ALL of our products, quality, and service and will always keep this promise based upon future business potential.
We are not a peddler company; we are an Auto Dealership Partner! Our goal is to acquire 100% of your business and save you the most amount of money possible. We do this in multiple ways:
We provide auto dealers a side-by-side comparison guide spreadsheet showing you our pricing structure on everyday auto dealership products or supplies you are currently purchasing.
We structure our business based upon campaign managers that are appointed to your account assuring the auto dealer 100% customer satisfaction.
We strive to provide auto dealerships with relevant and unique products while keeping quality in mind to assist and help grow your business.
Low price promise allows us to beat your current pricing and assure that you are saving the most amount of money possible.
We care! Our business is based upon volume sales and not home run deals. Our referral program is amazing and is part of our growth strategy.
Why us?
We get it. We understand the auto dealership business! We consider ourselves "Car Guys" in the truest form. Our model and processes are proven, scalable and most of all, successful. Our network of dealers has been purchasing products from multiple auto dealership competitors for a longtime. Converting nearly 100% of auto dealership supplies from MyDealerSupply.com has saved them money, time and ease of billing.
Billing:
Our billing program is simple. We offer our clients multiple payment options including PO (Purchase order) or CC (Credit Card). Our billing system is based upon net 30-45. *Customers must be approved for PO billing.
Ordering:
Order online and save on shipping cost via exclusive FREE shipping for online orders over $200. Our online ordering is the best in the industry based upon previous one-click re-orders. If you prefer, you can also order by phone.
Shipping:
Same day shipping for fast delivery of our products is what we do. Custom orders take additional time but we understand your needs and will do everything in our power to provide you with your products as fast as possible without error.
Design:
We believe this service is our niche. Our "Award winning" design team is of the best in the industry. We are capable of providing web ready files for website upload or social sharing. We also team up to assist in implementation. Our design turnaround is fast and always provides multiple options to satisfy your ideas.
Low price promise:
We will beat your current price or, at worse, match all pricing on supplies to assure the most amount of business possible. Again, we value ourselves based upon volume.
Quality:
We understand the value of quality products and we know what lasts the longest and looks the best. We will always discuss with clients our opinions and offer suggestions to assure you are getting what you really want.We never want to sell you something you wont be happy with. Your satisfaction is our future business!
Lets get started! Contact us today or email us [email protected]
For more information about MyDealerSupply.com click here.